Announcing the festival dates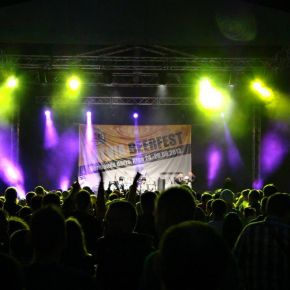 Until the 15th November has been announced, " Latviabeerfest 2014 " National Reservation, during which trading venues can be booked to Latvian breweries Union and Latvian breweries members . At the 15th November will continue the open reservation where other Latvian and foreign brewers will be able to apply for participation in the event.
Andrejs Šikors , international beer festival " Latviabeerfest " Administration and Society " Beer Fraternity " ("Alus Brālība") head: " Elapsed International Festival
" Latviabeerfest 2013 " was succeeded, by the growth trend of the participants as well as visitors. After monitoring , every 4th event visitor was a foreign tourist who's travel destination in Riga was visiting "Latviabeerfest 2013".We believe that events like this are a great advertisement for Riga and Latvia, which increase the flow of tourists and raise public awareness. This is shown by the experience of other countries in Europe , the beer is a drink which basically unites us . "
" Latviabeerfest 2014 " developed the concept of the Baltic States, with an emphasis on Latvian traditions and insight into the worlds beer production multiplicity. Consequently, we expect a lot of interest from both, domestic and foreign beer producers and traders. " Latviabeerfest 2014 " is planned to be more comprehensive than the previous one, with an even greater number of beer brands and international cuisine.
As in previous years, " Latviabeerfest 2014 " will be held for three days , at Vērmanes Garden , Riga. At the festival are invited to participate all Latvian , Lithuanian, Estonian beer factories, visitors from Germany, the Czech Republic and other European countries.
Hosted by the Armands Simsons , who last year took over the reins of the festival's patron Raimonds Bergmanis . Entertainment program for next year will be on 5 stages, on which will perform in the Baltics popular music groups and artists.