"Latviabeerfest" concludes a cooperation agreement with "Izklaides producentu grupa 7"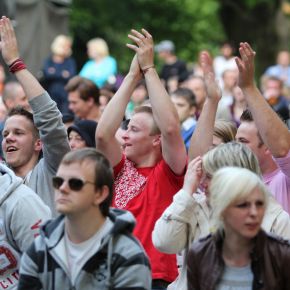 Currently, the festival producers' group well-known in Latvia has started active work on development of the programme of Latviabeerfest 2013 which will become publicly known at the end of April. The festival is planned to last for three days this year, as well – the evening concerts will take place on the large stage, while the recreation area, children entertainment and amusement area, chillout area and four small stages will be available within the festival territory in the daytime.
"Latviabeerfest has a potential to become not only the Baltic event, but also an event of the European level, therefore we are developing several new ideas in the festival programme this year. This is the reason why we have chosen to cooperate with the producers whose experience covers the most popular and successful Latvian cultural projects, thereby expanding the experience horizon of the beer festival, as well", Latviabeerfest Communications Director Guna Milusa tells.
"Being producers of Latviabeerfest 2013 is a new opportunity and pleasant challenge for our company because up to now, we have mainly developed or creative activity in the form of shows, concerts and musical performances. I see Latviabeerfest as a festival where the whole family gathers by combining power, attractiveness, intelligence and national humour and everybody finds the most suitable activity and recreation opportunity for himself/herself in this festival", Director of "Izklaides producentu grupa 7", Producer Aigars Dinsbergs emphasizes.
The largest implemented projects by "Izklaides producentu grupa 7" since 2005 and up to now – Rock and Pop Chart "Musical Bank" Awards Ceremonies, summer open air performances of "Muzikālais teātris 7", annual concerts of national holidays in autumn "My song for Latvia" in Riga, Dailes Theatre, National Theatre and other places in Latvia, national song festival "Jāņi dzied", "Latvija līgo" , Latvijas Radio 2 anniversary grand concerts in the arena "Riga", concert performances "Pasaule, pasaulīt", "Vecīši nāk", "Mīlas melodija", etc.