The press conference on the third international beer festival "Latvian beerfest" upcoming by the end of May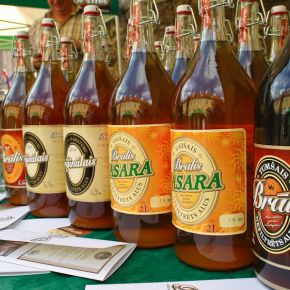 As previously announced on May 24 to 26, in Riga, Vērmanes Garden the third international beer festival Latviabeerfest will take place. All Latvian beer brewers and foreign beer brands that are introduced into the Latvian market are invited to take part. Most home brewers have already applied. The largest brewers from Lithuania and Estonia have also showed interest about the festival.
This year as well the beer festival will be a celebration for everyone. The festival will offer not only beer, but also cheerful entertainment for a whole family in one of the most beautiful parks in Riga – Vērmanes Garden, besides, it is planned at the time when warm evenings will call out of the walls. This year's intrigue! – The attractive master of the last year's beer festival ceremony Raimonds Bergmanis will hand on the baton to the new one. Who will it be?
Every day live music concerts will take place on a number of stages. During the event there will be competitions, contests, games and quizzes. Each brewery will offer not only beer, but also catering services. Latvian restaurants and cafes will care for a wide choice of food. The days of festival will be the best beginning of summer not only for beer lowers but also for citizens and guests of the city.
The international conference of Latviabeerfest will take place in the framework of the festival.
Organization of a festival of such a level was encouraged by the festival Latvianbeerfest which was success in September, 2011. At that time, festival organizers followed the advice of the Latvian beer brewers to organize this event in the beginning of summer and provide a chance to participants to advertise their new products. The fact that such a move was correct and well-founded confirmed last year's great success of the festival. The beer festival Latviabeerfest 2012 brought together around 40 thousand visitors and approximately one from five was a foreign guest. At the time, more that 18 tons of beer were sold.
Latviabeerfest 2013 is organized the association Alus brālība which was founded last year. It havs been created with a purpose – to promote beer culture in Latvia, educate and unite enthusiasts of beer culture.
"It can not be real country if it has not own beer and airline. – It helps, if there is football team or nuclear weapons, but its impossible without beer". It was once told by the American musician Frank Zappa.:)
Participants of the press conference:
Vita Jermoloviča, Head of Riga Tourism Development Bureau;
Maija Placēna, Head of National food quality certification schemes for products
Andrejs Šikors, Chairman of the Board of Alus Brālība;
Aigars Dinsbergs, Izklaides producentu grupa 7;
Guna Miļusa, Director of Communications of Latviabeerfest;
Raimonds Bergmanis, a patron of Latviabeerfest, Former Manager of the festival.