This year for LATVIABEERFEST has a new tankard design.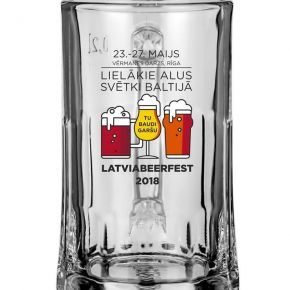 As every year, also this year, the identity of the festival has changed, after which a new tankard logo is chosen. By changing the logo, the design of the tankard itself is changed, thus making the tankards unique each year.
Every year, the annual tankards can also be bought in the festival, but they are in limited numbers. For example, last year's tankard was sold out during the festival and will no longer be available for purchase. You can purchase them at all entries of the festival or at the INFO centers inside the festival. Its possible to buy this years tankards and also remaining tankards from all the previous festivals for a special price.

Festival "Latviabeerfest 2018" will take place for five days, from May 23 – 27, when the visitors will be able to try more than 200 beer types from the best local and European breweries. This year the festival will take place in the centre of Riga – in Vērmane Garden – that is a perfect place for enjoying beer – a beautiful park only 5 minutes from the Old Town of Riga, where for five days beer will flow and fun will run high.