Around 150 types of beer will be offered in the 3rd international exhibiton-festival "Latviabeerfest 2013"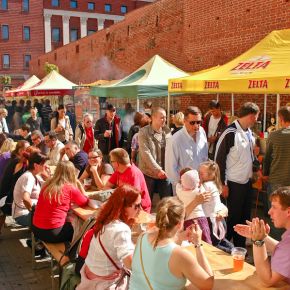 The exhibition-festival "Latviabeerfest 2013" represented by the beer manufacturers and kinds of beer to choose will be absolutely the largest in the Baltic states this year.
Latvian beer manufacturers and also foreign guests will introduce their new and also traditional products. The represented brands will include well-known European beer manufacturers which are rich with their traditions, as well as unique and specific products from other manufacturers all over the world. Overall, more than 13 countries will be represented. Latvian catering companies will offer tasty and traditional Latvian and foreign beer snacks and food.
This year it is planned that the exhibition-festival "Latviabeerfest 2013" will be the largest and most popular beer culture discovery, recreation and entertainment event not only in Latvia, but also all over the Baltic states. Taking into account that this is only the 3rd year having this festival, it develops really fast, and in the beginning of this summer variety of kinds of beer and wide recreation program will be possible to enjoy in a completely new level", says Communications Director of the exhibition-festival "Latviabeerfest 2013" Guna Miļusa.
The ehxibition-festival "Latviabeerfest 2013" is organized by the society "Alus Braliba" in cooperation with "Latvian Brewers' Association" ("Latvijas Alus darītāju asociācija") and "Latvian Brewers' Society" ("Latvijas Alus darītāju savienība") and supported by "Live Riga".
The main sponsor of the festival: Viking Malt
Media partners and friends of the festival: Latvijas Radio 2, Inbox.lv, Tvnet, Kas Jauns avīze, Tilts Media, euroAWK, Vesti Segodnja, Baltic Taxi, LEDempire.