LATVIABEERFEST 2018 has gained a new identity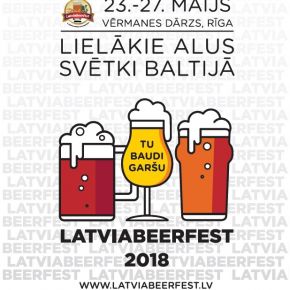 We want to give the festival visitors the opportunity to see, feel and taste, understand and discover what it means to live with the taste, which means enjoying a moment, colors, feelings.
This year, the festival will have a record number of beer breweies - both Latvian and foreign beer brewers will be represented. This year's 'Riga craft beer week' sector has been set up, where visitors will find a wide range of craft beer segments - rarely found in the Kolnasta Brewery from Riga to the very youngest - Teika brewery. The 'Riga craft beer week' sector will also feature a stage with an appropriate music program.
In co-operation with the LIVE RIGA festival area, for the first time there will also be the 'Riga restaurant week' and the 'Riga wine week', where visitors will enjoy the widely-recognized and appreciated restaurant's exquisite cuisine's compatibility with beer as well as local wines.
The festival LATVIABEERFEST 2018 will take place for five days in the very heart of Riga, in Vērmanes dārzā, from May 23-27, where you will have the opportunity to enjoy the new and already popular beers, local delicacies of cooking craftsmen, as well as to view and purchase craftsmanship.