"Latviabeerfest" chairman Raimonds Bergmanis transfers his power to Armands Simsons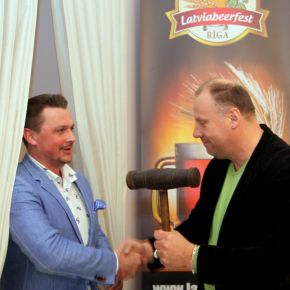 In addition, the producer of the festival, Aigars Dinsbergs, during the press conference, shared information about the main planned activities and evening entertainment show. The basic idea of "Latviabeerfest 2013" this year – it is a holiday for everyone! This means that in Vermanes Garden not only adults will enjoy the event, but also children. The head of RTDB, Vita Jermoloviča, at a press conference said, that this year's festival "Latviabeerfest 2013" will be the largest and most popular event in the opening of beer culture, leisure and entertainment, not only in Latvia, but also in all the Baltic States.
In the area of active recreation will be arranged team games, relay races, setting new records, games for intelligence and dexterity, as well thought out the titles such as "The strongest gut", "The loudest throat", "Miss Latviabeerfest 2013", "The top ten of most stupid", kissing contest, the tournament of beer fever and much more and, of course, music - rock, pop, schlager, blues, jazz, and also folk songs and representatives of the brass band. In the evening concert will take part Auzāni brothers and the famous Jersikas orchestra, group PeR, Bermudu divstūris, as well as the legendary band Pērkons, who will perform in Vermanes Garden as part of its tour in Latvia.
"In the largest Baltic beer exhibition-festival "Latviabeerfest 2013", which this year will take place in the Vermanes Garden on May 24 - 26, will take part 36 Latvian beer brands, as well as guests from the Czech Republic, Estonia, Denmark, Germany, Belgium, England, Russia, Mexico, Spain, Poland and Belarus. The exhibition-festival will be offered about 150 varieties of beer. The beer will be represented by more than 13 countries,"said the chairman of the Beer Brotherhood (Alus Brālība) Andrejs Šikors.